Testimonials
What our amazing customers have to say….
Wow what a business
Wow what a business….professional and go that extra mile for you. The boats are perfect, had the best couple of days in the boat, out to whitehaven, chalkie beach for snorkeling and hamilton island for some tubing. 2nd day out to hook island and whale watching both days.
This is why you need to hire boats from these guys the freedom you have to get around the whitsundays. Thank you so much Deb and Bob and Ryan for everything the family had the best time and a very memorable couple of days.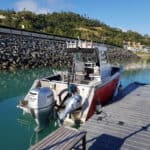 Dave vistac
Wednesday, 8 August, 2018
Absolutely awesome!!!
Had a fantastic time with Airlie Boat Hire! The Boat, service and advice was outstanding. They put us on to some good spots where we got smashed by some big fish, landed a few and lost some too. What an awesome couple of days fishing. Special mention to Ryan for all his help and knowledge. Thanks mate!! Highly recommend these guys and definitely won't be going anywhere else next time we're up here. Cheers Adam, Phil and Mitch 🎣👍
Phil Jones
Saturday, 16 June, 2018
Fantastic Service
These guys have a boat for everthing, a quick fish, a cruise arround or the pontoon for that big family day or a bunch of friends, could not recommend them highly enough!
Phil Sharp
Monday, 28 May, 2018
Great people, service and advice
Deb, Bob and Ryan are very professional and friendly, they helped me out with choosing the right boat for my trip, gave an easy to understand run down of the electronics and features of the boat and even shared local location, weather and conditions information. Airlie boat hire is the complete package, with great people, service and advice. I highly recommend them!
Aaron Briggs
Wednesday, 16 May, 2018
We would love to hear about your experience with us at Airlie Boat Hire