Testimonials
What our amazing customers have to say….
Highly recommended!
We experienced nothing but great service and friendliness from the moment we contacted them to book a boat hire, thru to walking off the pier at the end of the day.
Everything you need for a safe and fun day on the ocean I did included, and optional extras are available from rods through to bait, and ice for the eskis.
Clearly owned and operated by passionate people who care about giving great service and making their customers happy.
Highly recommended!
Steve North
Wednesday, 6 March, 2019
First Class!
First class operator and can not recommend highly enough! Very fast response time, extremely helpful and the whole team (Deb, Bre' and especially Ryan) could not have done anymore to help. Whether it's good reliable boats, fishing tips / locations, fishing equipment, great places to see or routes to take….. Airlie Boat Hire have the full service of expertise and are an incredibly nice and decent family run business! So much so, we rebooked the go again 2 days later. Do not look anywhere else for a first class experience! Many thanks Ryan and your team! David.
David Muir
Friday, 7 December, 2018
Amazing to deal with
Local family with plenty of local knowledge! Bob, Deb and Ryan were just amazing the deal with. I can't believe how easy it was to book online, took only a second and when I called These guys were always ready to answer my 100 questions. Thank you Airlie Boat Hire for making our day out on the water one of the best experiences I've had.
Renae Sharp
Tuesday, 20 November, 2018
Lovely family run business
This is such a lovely family run business that really looks after their customers. I have hired boats from them many times and every time is such a pleasure! They really go out of their way to look after you and show you some good spots or helpful hints. Their boats are great! Well looked after and you can get around and see all the islands in a day! Would highly recommend Deb, Bob and Ryan if you are looking for boat hire in Airlie Beach.
Breanna Hinschen
Thursday, 15 November, 2018
Brilliant Service
If you are looking for boat hire in Airlie beach this is the only company to hire from, their customer service is brilliant, nothing is too much trouble. We hired the pontoon boat and saw whales, dolphins, turtles we snorkeled and went to whitehaven beach. AMAZING… This was the best day of our holidays, Deb, Bob and Ryan were so helpful we will be back to hire from these guys again.
From Barbie and family
Barbara Reynolds
Thursday, 20 September, 2018
Best day ever
Went out on centre cab best day ever saw whales and turtles awesome day going back asap
Aidan Teua
Sunday, 16 September, 2018
Very well run business
We booked a tinnie but unfortunately we had to cancel due to not understanding that they were based on the mainland. Not based from Hamilton Island. My mistake… I spoke to Deb in the morning and she happily gave me a full refund on the day. They were very understanding about it and I know that next time I'll use these guys to island hop around the Whitsundays. Very well run business.
Joseph Plunkett
Friday, 7 September, 2018
One of the best activities in the Whitsundays
Formerly Boab boats, Airlie boat hire rates as one of the best activities in the Whitsudays. We hired a sports rider  for the day and explored the islands around the Whitsudays in our own time, Whitehaven beach was amazing, would go again anytime.
Tom Eccleton
Thursday, 23 August, 2018
We will be back!
I can't say enough about these guys, from booking to stepping on the boat the staff could not be more helpful. From snorkel gear to rods and bait all available did not have to bring a thing, didn't even have to bring ice for the beer, they made our day out so easy. A lot companies could learn a lot about what service really is from these guys. Thanks again Bob, Deb and staff, we will be back!
Dianne Sharp
Friday, 10 August, 2018
Wow what a business
Wow what a business….professional and go that extra mile for you. The boats are perfect, had the best couple of days in the boat, out to whitehaven, chalkie beach for snorkeling and hamilton island for some tubing. 2nd day out to hook island and whale watching both days.
This is why you need to hire boats from these guys the freedom you have to get around the whitsundays. Thank you so much Deb and Bob and Ryan for everything the family had the best time and a very memorable couple of days.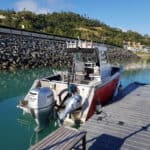 Dave vistac
Wednesday, 8 August, 2018
Absolutely awesome!!!
Had a fantastic time with Airlie Boat Hire! The Boat, service and advice was outstanding. They put us on to some good spots where we got smashed by some big fish, landed a few and lost some too. What an awesome couple of days fishing. Special mention to Ryan for all his help and knowledge. Thanks mate!! Highly recommend these guys and definitely won't be going anywhere else next time we're up here. Cheers Adam, Phil and Mitch 🎣👍
Phil Jones
Saturday, 16 June, 2018
Fantastic Service
These guys have a boat for everthing, a quick fish, a cruise arround or the pontoon for that big family day or a bunch of friends, could not recommend them highly enough!
Phil Sharp
Monday, 28 May, 2018
Great people, service and advice
Deb, Bob and Ryan are very professional and friendly, they helped me out with choosing the right boat for my trip, gave an easy to understand run down of the electronics and features of the boat and even shared local location, weather and conditions information. Airlie boat hire is the complete package, with great people, service and advice. I highly recommend them!
Aaron Briggs
Wednesday, 16 May, 2018
We would love to hear about your experience with us at Airlie Boat Hire